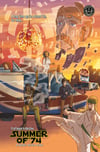 The first episode in the saga. 48-page perfect bound book.
Pre-Order now. Shipping October 2020.
SUMMER OF '74 is the "true" story of how "Star Wars" began, in a desert truckstop in California in 1974. Featuring action, romance, disco, a missing sex tape, time-travel and the dark side of politics – Hello Nixon! – with familiar characters you think you've met...a long time ago in a desert truckstop, not that far away.